How We
Serve
The Rybar Group has been providing innovative, results-oriented healthcare financial consulting and related healthcare regulatory services to hospitals, healthcare systems and providers since 1989. Our highly experienced team of consultants and strategists are committed to assisting our clients in maintaining their financial viability through compliant, efficient business operations. We strive to ensure that our clients receive optimal reimbursement with integrity while meeting quality initiatives and compliance standards.
We staff each engagement with highly experienced, dedicated professionals, equipped with decades of healthcare, clinical and financial management industry knowledge. We combine our foundation of expertise with a client-centered approach to navigate complex third-party regulations throughout our distinctive menu of professional services.
Behavioral Health Services

Providing care with patience and empathy can be extremely difficult, especially when faced with challenges and overwhelming unmet demand, as is the case with behavioral healthcare. That is why at The Rybar Group, we seek to provide reimbursement and revenue optimization services to the full spectrum of behavioral healthcare providers including hospital inpatient and outpatient psychiatric units, behavioral health clinics, mental health facilities, substance abuse residential treatment centers, addiction treatment centers, and community-based treatment providers.
We respect the role you play in the long-term health and safety of our communities. Our highly experienced team of consultants takes a multi-disciplinary team approach, offering financial and operational strategies tailored specifically to identify opportunities for individual facilities and providers.
We are proud to hold the knowledge and expertise to provide the following services:
Medicare, Medicaid and Third-Party Payor Services
Medicare Bad Debt
Cost Report Preparation, Adjustment Review, and Appeals
Payer Negotiations and Contract Optimization
Provider Compensation and Productivity Analysis
Clinical Documentation Assessments
340B Eligibility Compliance
Financial Operations and Structure
Financial and Reimbursement Analysis
Contractual Allowance Reviews
Feasibility Studies
Revenue Cycle Analysis & Optimization
Behavioral Health Documentation, Coding and Billing Assessments and Education
Charge Capture/Clinical Documentation Improvement Reviews
Billing and Payment Review
Denials Reduction for Improved Cash Flow
Practice Assessments
Mergers and Acquisitions Support
Medicare Certification Applications
Chargemaster Reviews and Education
To Learn More, Contact Our Team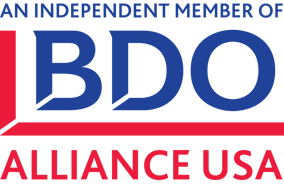 The Rybar Group is an independent member of the BDO Alliance USA, a nationwide association of independently owned local and regional accounting, consulting and service firms with similar client goals.