Who We
Serve
As the healthcare landscape continues to face ongoing changes and more intense regulations and auditing, it is understandable that financial challenges continue to top the list of concerns for providers. At The Rybar Group, we do not dabble in reimbursement and revenue cycle solutions; we specialize in it. Working side-by-side with our clients, we work to identify barriers to financial success and identify ways to escalate their cash flow.
CPAs

The healthcare industry is poised for tremendous growth and change in the coming years. Staying on top of the rapidly changing landscape can be a challenge. As a comprehensive advisor, you work to move beyond traditional accounting and financial analysis, providing guidance to your clients as they work through the myriad of regulatory and market changes.
As you work to address the issues and to provide solutions, your firm can benefit from a strategic partner who provides in-depth industry knowledge to help clients create solutions designed to identify opportunities for revenue generation, isolating root causes for underperformance, accelerating cash in the door and supporting long term margin improvement.
The Rybar Group offers our knowledge and expertise of healthcare to supplement what you are already providing to your clients, without conflict of interest. Partnering with The Rybar Group grants you access to our expansive list of services and provides your clients with the knowledge of a leading industry expert. And we understand you more than you may think: our leadership and consultant team include a number of CPAs. We understand and recognize your role in servicing your clients, and we will respect that throughout the duration of our partnership.
Let us help you differentiate your firm from the thousands of others in the market, positioning you apart from the crowd.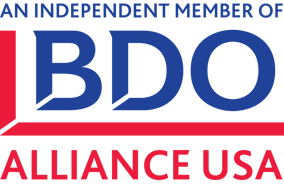 The Rybar Group is an independent member of the BDO Alliance USA, a nationwide association of independently owned local and regional accounting, consulting and service firms with similar client goals.