Who We
Serve
As the healthcare landscape continues to face ongoing changes and more intense regulations and auditing, it is understandable that financial challenges continue to top the list of concerns for providers.
Healthcare providers need to partner with a firm that will stay on top of the everchanging rules and regulations that surround healthcare reimbursement and that can help them to solve the complex problems of today and can help them to plan for the future. At The Rybar Group, we do not dabble in reimbursement and revenue cycle solutions; we specialize in it. Working side-by-side with our clients, we work to identify barriers to financial success and identify ways to escalate their cash flow.
Our comprehensive solution offering has assisted providers of all designations, sizes and specialties around the country. Whether you are a start-up practice, a multi-specialty physician practice, a rural health provider, a not-for-profit or for-profit hospital or a multi-billion-dollar health system, we have you covered.
With over 300 years of combined expertise, our consultants understand what you are up against. We make healthcare reimbursement easy so that you can focus less on administration and more on patient care. We are committed to addressing what matters most to you – creating strategies to increase revenue while streamlining overhead processes.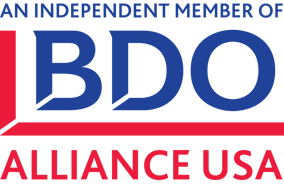 The Rybar Group is an independent member of the BDO Alliance USA, a nationwide association of independently owned local and regional accounting, consulting and service firms with similar client goals.