The Rybar Group, Inc. was awarded "Best Client Experience" by BDO Alliance.
The Rybar Group was awarded the Excellence in Client Experience Award at the annual BDO Alliance Conference in Las Vegas. This award recognized our commitment to making our clients the center of every process, team, and technology decision, especially in the context of a challenging work environment.
Please join us in celebrating this recognition.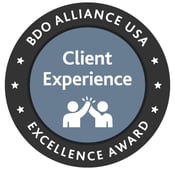 The Rybar Group is pleased to announce that Clair Kelley has joined our team as a Revenue Cycle Consultant.
Clair brings over seven years of experience working in professional service coding, auditing, and education. We look forward to working with Clair and adding her expertise to our team.
We are proud to receive this recognition as our corporate culture revolves around providing clients with exceptional services. Assisting healthcare providers in whatever way possible is priority to our organization.
For more information about Clair, click here.
Please join us in welcoming Clair.